Important question for stained glass makers who are searching for that final magic ingredient in their work and don't know how to move forward...
"Would you like to expand your skills and make stunning new and different stained glass?"

...then take my Stained Glass Plating Magic course and learn the practical AND creative skills needed to bring your ideas into being.

We all know this feeling:


You finish your panel and after momentary delight as the colours flash, you get a creeping sense of wanting more.


It's not that you're unhappy with it, no, it's lovely!
The soldering and cutting are fine, the pattern's a good one and the glass gorgeous but... you know there's more to be had. 


More dimension, more movement and more texture.


You just don't know how to make it happen.


If you want to find out how to add these vital elements and make your stained glass burst into living, breathing life, read on...
What follows is a technique that gives you the extra skills to add that special 'magic touch' to your work.
A technique that finally pushes your stained glass forwards - and up! - from merely good to uniquely spectacular.
It's called plating.


By layering glass together, plating gives stained glass more dimension, more movement and more texture.
Take a look at 'Moraine Lake' above, by Plating Magic student Tim Smith.
I think you'll agree it's a real show-stopper.


It's plating that creates that stunning reflection and sense of dimension.


If you've gone as far as you can with the skills you currently have, learning this plating technique will lift your work into a different arena entirely. And your motivation along with it.


Not only will you start creating work that is new and exciting for you, you'll be making work that is new and exciting for those that see it.
And that really is a 'warm-glow' kind of a place :-)

I'm not promising the moon, either.
I know these results are available for all of us, not just a chosen few genius artists.


The simple techniques of plating can be used by you, by me, by anyone to add all types of effects.


Effects that result in stained glass POPPING into life like a dolphin from the sea.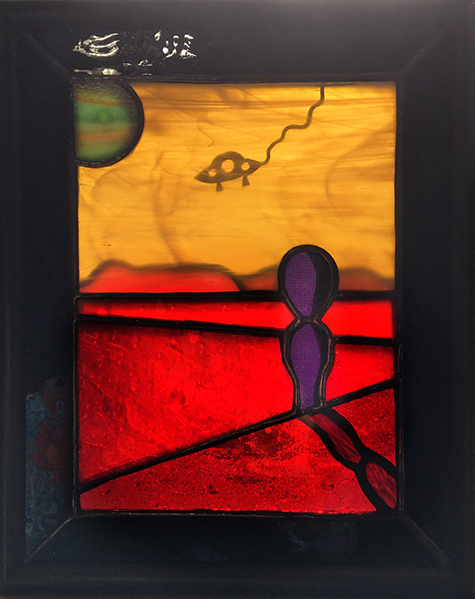 Add Shadowing
By Plating Magic student Deb Minez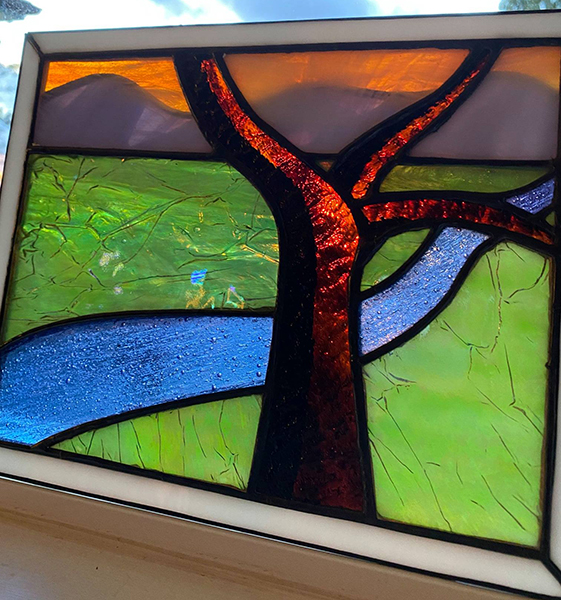 Play With Colour & Texture
By Plating Magic student Laurel Granucci-Vieaux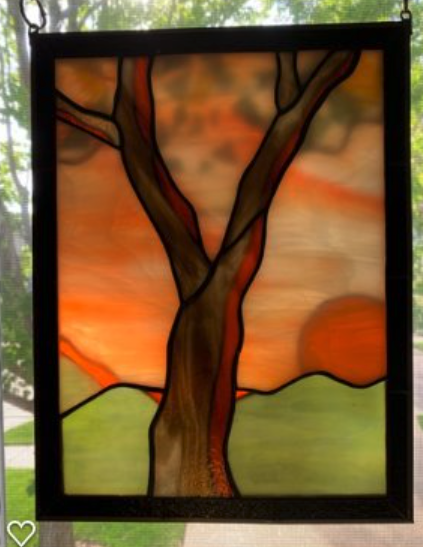 Create A Sense Of Depth

By student Wes E. Pattern Barry Masser

Here's a tip-of-the-iceberg look at some of the things plating lets you do:


Add Dimension.
Create dimensional landscapes with detailed flowers in front and misty mountains behind
Play With Texture.
Make your dog's ruffled fur real enough to stroke
Explore Shadowing.
Add more roundness to a lighthouse and more solidity to a tree


Create New Colours.
Produce glorious multi-coloured skies as the sun sets low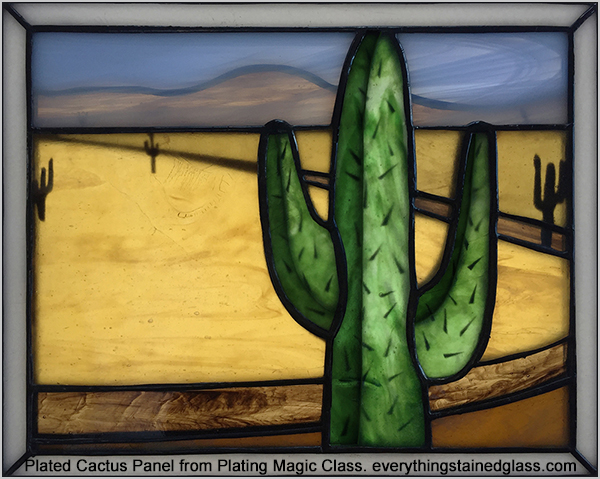 Create Depth With Just 2 Layers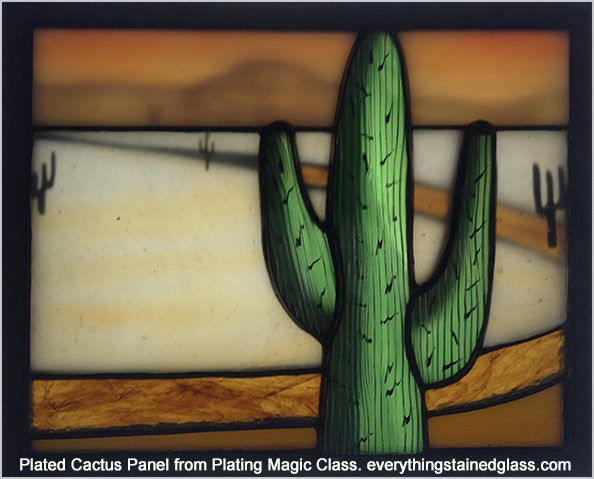 Limitless Colours & Textures

Introducing Stained Glass Plating Magic


This online course will teach you how to add shadow, depth and texture to your panels and transform the quality of your stained glass instantly.  
What Students Think of Plating Magic...
"Sooo much fun!!!!! This is such a great course. Thank you, thank you, thank you for this one! I have so many ideas about my next projects."
Tim Smith, Plating Magic student

Here's a selection of what's inside Stained Glass Plating Magic for you:


After an Introduction to plating and all the essentials - tools, materials, glass lists and patterns - you'll move on to the 4 Pillars of Plating.


PILLAR 1. Design Delights - Glass Choices & Effect
The best ISN'T left until last in this course! This Pillar is spilling over with videos, slideshows and workbooks showing you which types of glass are good for creating depth, shadowing and textural effects.
You'll learn the skills to choose the exact right type of glass for your project from this moment on.


PILLAR 2. Faultless Fitting - Cutting & Foiling
I know you already know how to cut and foil but... there are a few important cutting and foiling considerations needed specifically for plating.
These video tutorials take you through them carefully, making sure you have all your cutting and foiling ducks neatly in a row :-)


PILLAR 3. Dizzying Detail - Paint & Foil Overlay
Watch these video tutorials and learn how to deepen the sense of perspective in your work with tiny details.
Small, beautifully formed and full of impact!


PILLAR 4. Careful Construction - Soldering & Finishing
A mighty Pillar! Here's where the Magic of Plating all comes together along with your 2 layers of glass.
One-by-careful-one I take you through each construction step so that you fully understand the process and are confident to tackle it yourself.


Videos in all 4 Pillars of Plating are supported by detailed Crib Sheets as reminders of each step. I don't want you taking a wrong turn!


There's a surprise waiting for you right at the end in the 'What's Next?' module. You'll learn about sealed Spot Plating and how it can be used to add even more 'pop' to your stained glass.


Your journey is about to begin...

Secure Payment - Paypal or Credit Card - and 100% Money Back Guarantee
>>> 100% Risk Free
>>> Lifetime Access To 24 Close-Up Videos and 9 Slideshows
>>> Exclusive Access to a Searchable Glass Index
>>> 3 Workbooks and 9 Follow-Along Crib Sheets - To Download & Print
>>> 24/7/365 Access to Videos and Slideshows
>>> Tools & Materials and Glass Checklists - To Download & Print
>>> Full Set of Patterns - To Download & Print
>>> 24/7/365 Access to a PRIVATE Supportive Facebook Group (OPTIONAL)
And a FREE Bonus
>>> BONUS - 'No Kit' Sandblasting Video and Follow-Along Crib Sheet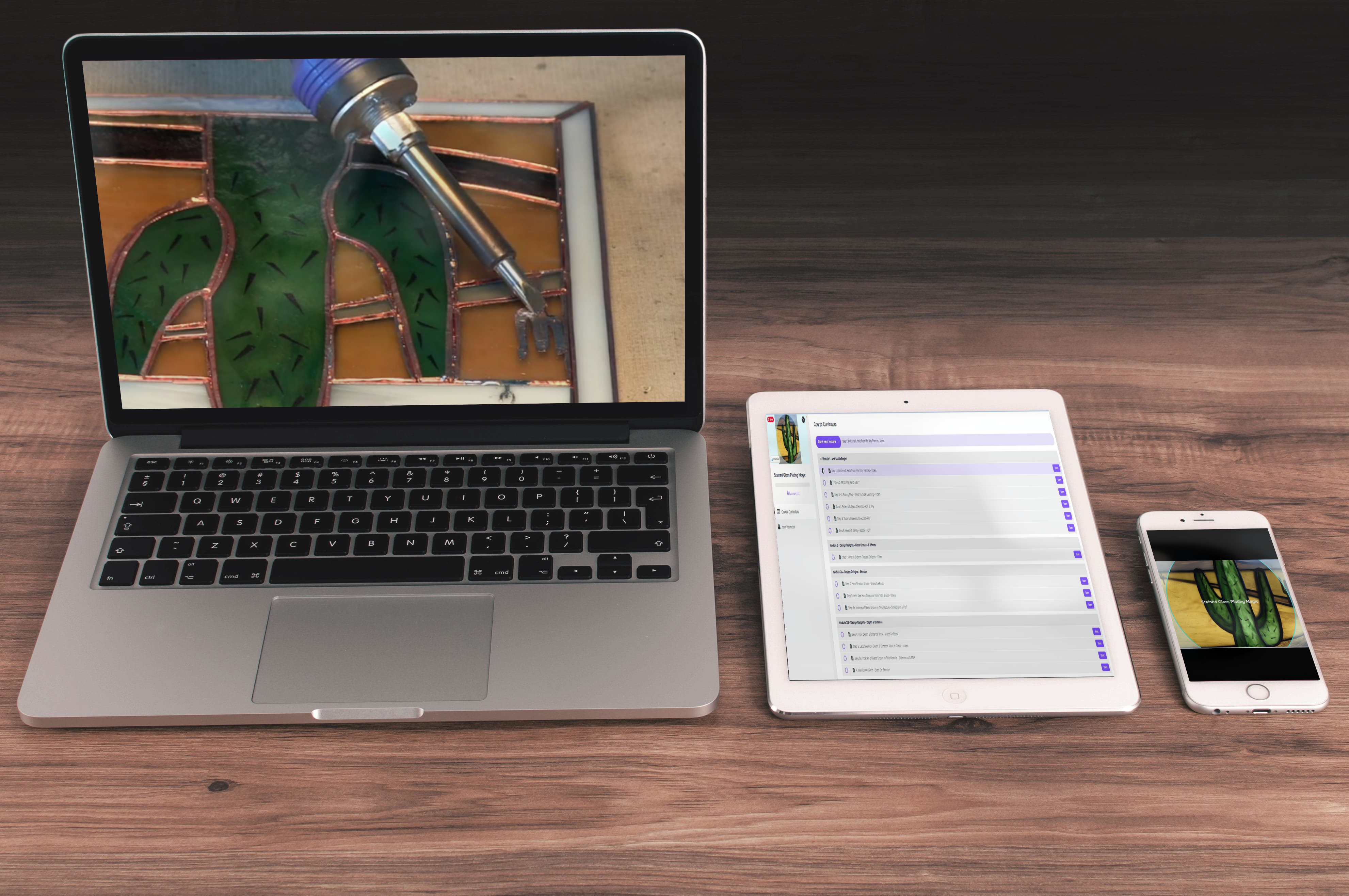 The videos and slideshows are all online. There is no data-hungry downloading needed.
As long as you have an Internet connection you can watch the course materials from any device at your home.
The only computer skill you need is to be able to Login and follow along. Honestly! Even I can do it!
​​​​​
My Personal Promise Guarantee


I'm so confident that you'll enjoy this course and be able to successfully make a 2-layered plated project that I'm offering you a 30-day
unconditional
money-back guarantee.


If for any reason you don't get on with the training let me know within a month and I'll refund 100% of your fees in full with no questions asked.


This is more than a money-back guarantee - it's my
Personal Promise Guarantee.
What Students Think of Plating Magic...
"It was almost magical watching the class videos as I got to see how 2 different 'normal' panels went together to create depth and texture, shading, interest and beauty in a way that just isn't available outside of plating."
Stephanie Klenka Mitchell, Plating Magic student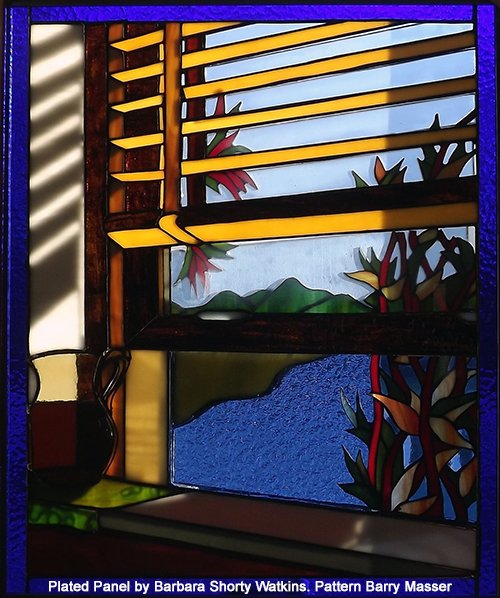 Made by Barbara Shorty Watkins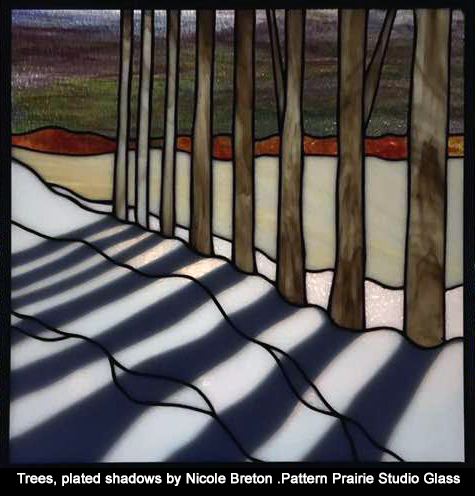 Made by Nicole Breton

Pattern by Prairie Studio Glass

Made by Hollis Wilson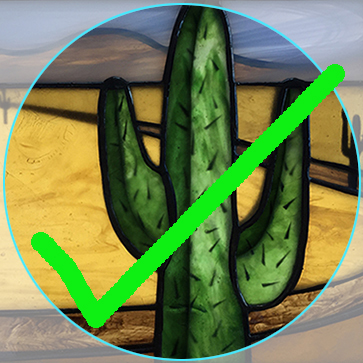 Who IS The Course Suitable For?
The class is suitable for you if you're an advanced beginner/intermediate who is excited to learn a new technique and want to make an instant difference to your stained glass.
It's designed for you if you:
have already made a few panels using the copper foil technique
are confident with the basics from start to finish 
can cut and put together a panel accurately on pattern
like being able to learn at your own pace and in your own way 
Who ISN'T The Course Suitable For?
The class isn't suitable for you if you're totally happy with your current work and don't think it can be improved in any way.
It's not designed for you if you:
can't yet cut glass accurately to a pattern
are not quite confident with the basics
only like learning from an in-person class. The class is all online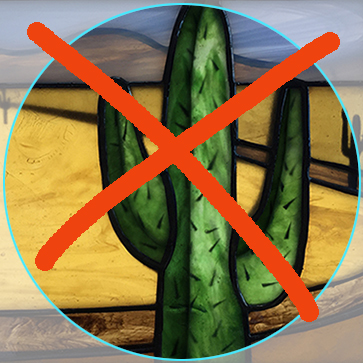 QUESTION: "I've seen Tiffany's plated glass. I'm not an artist and that's surely too hard for me?"
I've deliberately kept this first plating project as simple as possible. The class project is just 2 layers to get you started on your exciting journey.
I take you through each plating process in my usual detail, showing you exactly how to progress successfully through each stage.
If you've already made a few copper foiled panels from start to finish and have the basics safely tucked away then this class is suitable for you.
Once your confidence grows you'll be able to make more complex work until you're ready to tackle a Tiffany!
Plating Magic isn't suitable if you can't yet cut and solder to a pattern accurately. 


QUESTION: "Can you remind me what I'm getting if I enrol today?"


You'll get instant access to the Stained Glass Plating Magic course.
All the lessons are online in the Everything Stained Glass School and all are available immediately.
Plating Magic consists of 6 Modules that use video lessons, workbooks, crib sheets, checklists and prompts to teach you systematically how to make great glass choices and how to make a 2 layer sealed panel. 
There's also an additional video tutorial showing how to do the sealed Spot Plating technique.
You'll get a bonus video tutorial called 'No Kit' Sandblasting. This teaches you how you can save money by transforming the glass you already have into glass suitable for Plating. 
As with all my classes, I'm proud to offer Lifetime Access. I want you to be able to take your time with this, coming back whenever you need to have another look or learning another trick.


QUESTION: "How does this class work?"


Good question! Here's a run down of what to expect:
As soon as you purchase the course you will receive a welcome email with your login details and a link to the course.
You can do the course in any order, at any time and at your own speed. You can watch and re-watch it to your hearts' content.
There is a Facebook Group exclusively for students of my courses where you can ask questions and share what you're up to with others.​​​​​​​ 

Secure Payment - Paypal or Credit Card - and 100% Money Back Guarantee