Important question for stained glass makers who are searching for that final magic ingredient in their work but don't know where to look...
"What's the biggest difference between a stained glass panel that takes your breath away and one that merges with the crowd?"
-- if you're guessing 'more expensive and unique glass' - you would be wrong
-- if you're guessing 'using a more complex pattern' - you would be wrong
-- and if you're guessing 'better soldering and cutting skills' - again, you would be wrong


All these things have their place but they're only part of the equation.
It doesn't matter whether you're new to stained glass or an old hand; the success of your stained glass depends on you knowing the answer to this question.
We all know this feeling:


You finish your panel and after momentary delight as the colours flash, you get a creeping sense of wanting more.


It's not that you're unhappy with it, no, it's lovely!
The soldering and cutting are fine, the pattern's a good one and the glass gorgeous but... you know there's more to be had. 


More dimension, more movement and more texture.


You just don't know how to make it happen.


If you want to find out how to add these vital elements and make your stained glass burst into living, breathing life, read on...
What follows is a technique that gives you the extra skills to add that special 'magic touch' to your work.
A technique that finally pushes your stained glass forwards - and up! - from merely good to uniquely spectacular.
It's called plating.


By layering glass together, plating gives stained glass more dimension, more movement and more texture.
Take a look at 'Forest Floor' above, by Robert Oddy.
I think you'll agree it's a real show-stopper.


It's plating that gives it that stunning sense of depth and dimension.


If you've gone as far as you can with the skills you currently have, learning this plating technique will lift your work into a different arena entirely. 


Not only will you start creating work that is new and exciting for you, you'll be making work that is new and exciting for those that see it.
And that really is a 'warm-glow' kind of a place :-)
I'm not promising the moon, either.
I know these results are available for all of us, not just a chosen few genius artists.


The simple techniques of plating can be used by you, by me, by anyone to add all types of effects.


Effects that result in stained glass POPPING into life like a dolphin from the sea.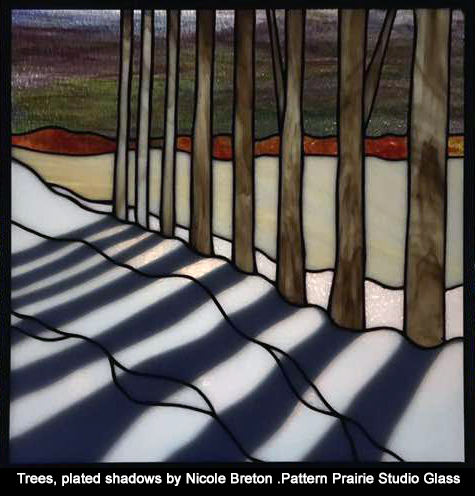 Add Shadowing
By Nicole Breton. Pattern Prairie Glass Studios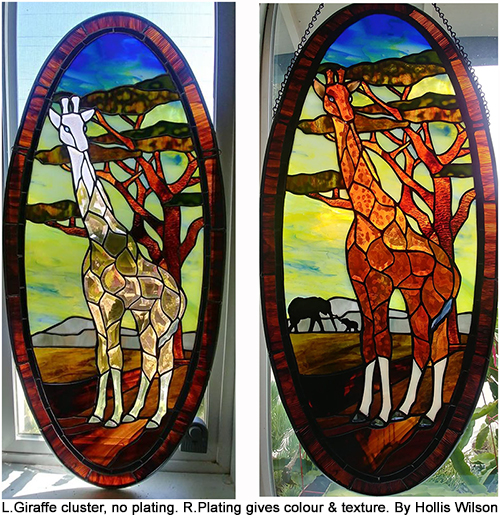 Play With Colour & Texture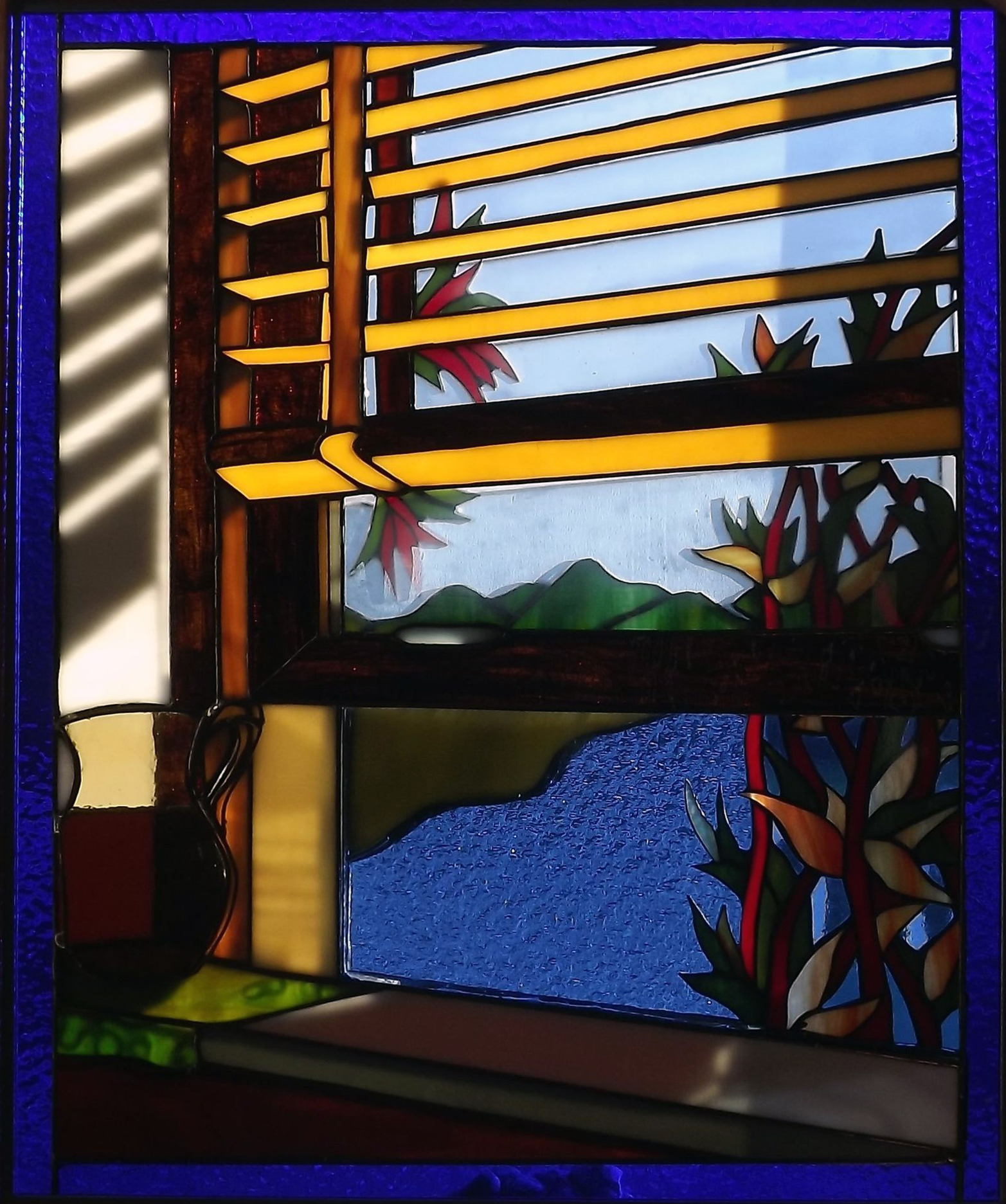 By Barbara Shorty Watkins. Pattern Barry Masser
Here's a tip-of-the-iceberg look at some of the things plating lets you do:


Add Dimension.
Plating creates depth in your stained glass, making mountains more mistily distant and clouds seem further away


Play With Texture.
Plating makes a dog's fur more ruffled and a bird more feathery


Explore Shadowing.
Plating adds more roundness to a lighthouse and more solidity to a tree


Create New Colours.
Plating produces limitless options for more multi-coloured sunsets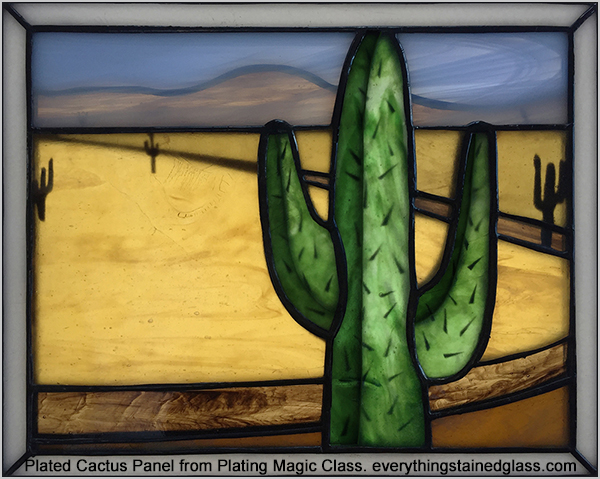 Create Depth With Just 2 Layers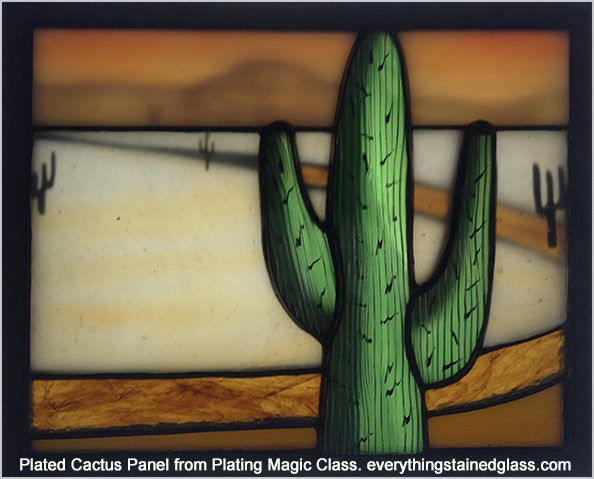 Limitless Colours & Textures
Introducing Stained Glass Plating Magic


This online course will teach you how to add shadow, depth and texture to your panels and transform the quality of your stained glass instantly.  
Here's a selection of what's inside Stained Glass Plating Magic for you:


After an Introduction to plating and all the essentials - tools, materials, glass lists and patterns - you'll move on to the 4 Pillars of Plating.


PILLAR 1. Design Delights - Glass Choices & Effect
The best ISN'T left until last in this course! This Pillar is spilling over with videos, slideshows and workbooks showing you which types of glass are good for creating depth, shadowing and textural effects.
These detailed visual explorations give you the skills to choose your very own combinations from this moment on.


PILLAR 2. Faultless Fitting - Cutting & Foiling
I know you already know how to cut and foil but... there are a few important cutting and foiling considerations needed specifically for plating.
These video tutorials take you through them carefully, making sure you have all your cutting and foiling ducks neatly in a row :-)


PILLAR 3. Dizzying Detail - Paint & Foil Overlay
Watch these video tutorials and learn how to deepen the sense of perspective in your work with tiny details.
Small, beautifully formed and full of impact!


PILLAR 4. Careful Construction - Soldering & Finishing
A mighty Pillar! Here's where the Magic of Plating all comes together along with your 2 layers of glass.
One-by-careful-one I take you through each construction step so that you fully understand the process and are confident to tackle it yourself.


Videos in all 4 Pillars of Plating are supported by detailed Crib Sheets as reminders of each step. I don't want you taking a wrong turn!


There's a surprise waiting for you right at the end in the 'What's Next?' module. You'll learn about sealed Spot Plating and how it can be used to add even more 'pop' to your stained glass.


Your journey is about to begin...
Secure Payment - Paypal or Credit Card - and 100% Money Back Guarantee
>>> 100% Risk Free
>>> Lifetime Access To 24 Close-Up Videos and 9 Slideshows
>>> Exclusive Access to a Searchable Glass Index
>>> 3 Workbooks and 9 Follow-Along Crib Sheets - To Download & Print
>>> 24/7/365 Access to Videos and Slideshows
>>> Tools & Materials and Glass Checklists - To Download & Print
>>> Full Set of Patterns - To Download & Print
>>> 24/7/365 Access to a PRIVATE Supportive Facebook Group
And a FREE Bonus
>>> BONUS - 'No Kit' Sandblasting Video and Follow-Along Crib Sheet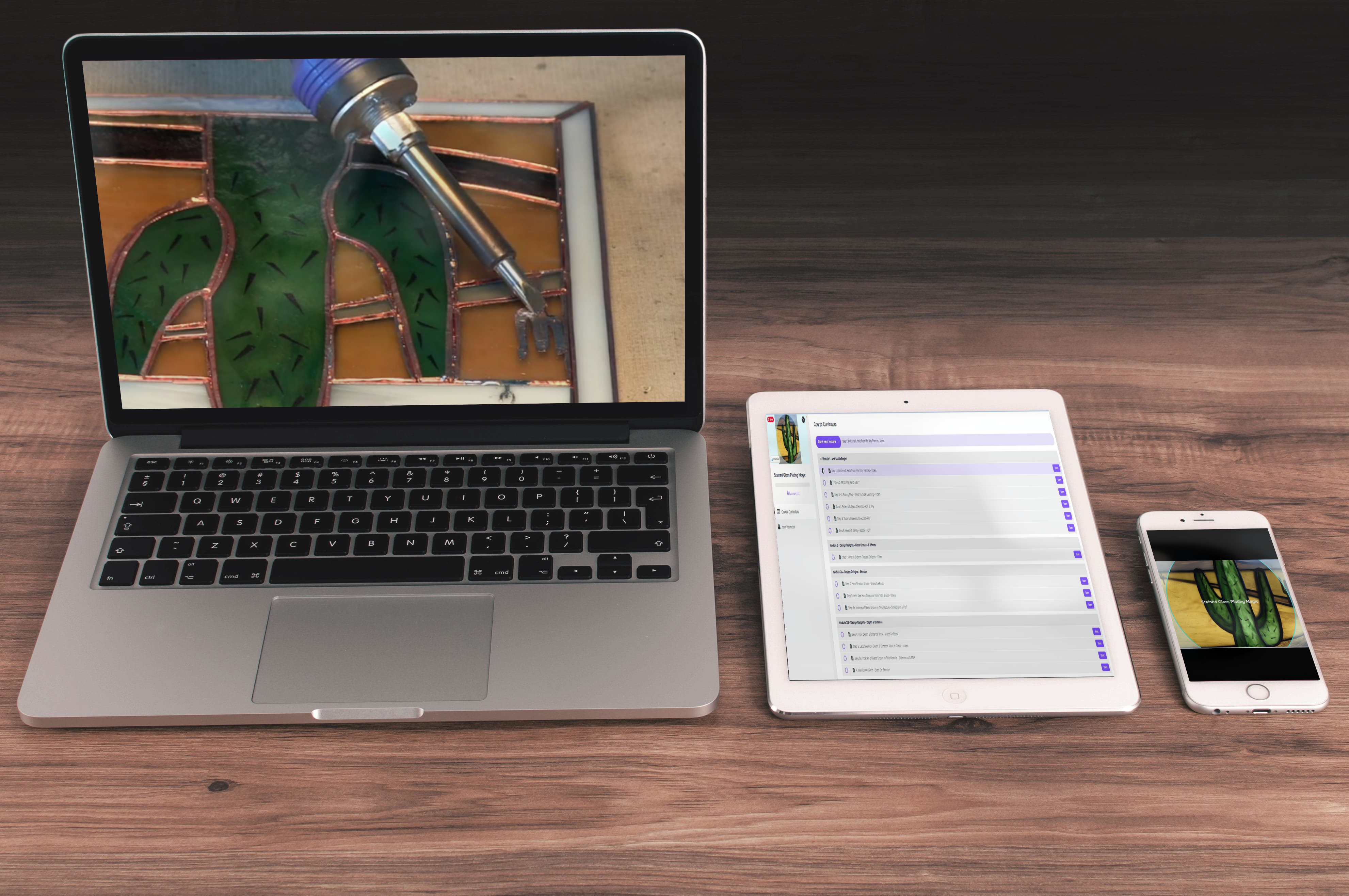 The videos and slideshows are all online. There is no data-hungry downloading needed.
As long as you have an Internet connection you can watch the course materials from any device at your home.
The only computer skill you need is to be able to Login and follow along. Honestly! Even I can do it!
​​​​​
What Students Think of Plating Magic...
"I took a sunrise photo today that had some purple shadows in the orange sky & immediately thought of plating & how I could reproduce what I saw!
Yes....I am hooked 🤣"
Susan Ulmer DeWolf, Plating Magic student
Stained Glass Plating Magic - The Full Curriculum
I've specifically designed this course with busy people in mind. I've structured the course with an option of 2 tracks to choose from: a 'Busy Person' FAST Track and a 'Not-So Busy Person' FULL Track.
Both the FAST and FULL Tracks will teach you how to make a lovely plated glass panel from start to finish.
My Personal Promise Guarantee


I'm so confident that you'll enjoy this course and be able to successfully make a 2-layered plated project that I'm offering you a 30-day
unconditional
money-back guarantee.


If for any reason you don't get on with the training let me know within a month and I'll refund 100% of your fees in full with no questions asked.


This is more than a money-back guarantee - it's my
Personal Promise Guarantee.
What Students Think of Plating Magic...
"It was almost magical watching the class videos as I got to see how two different 'normal' panels went together to create depth and texture, shading, interest and beauty in a way that just isn't available outside of plating.
I'm already dreaming of putting this knowledge to use in other ways, like ocean scenes and the like."
Stephanie Klenka Mitchell, Plating Magic student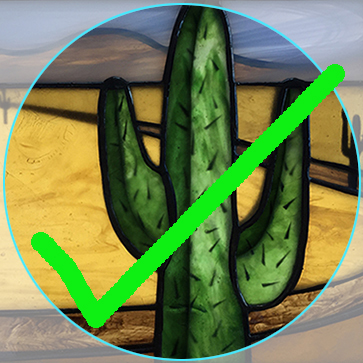 Who IS The Course Suitable For?
The class is suitable for you if you're an advanced beginner/intermediate who is excited to learn a new technique and want to make an instant difference to your stained glass.
It's designed for you if you:
have already made a few panels using the copper foil technique
are confident with the basics from start to finish 
can cut and put together a panel accurately on pattern
like being able to learn at your own pace and in your own way 
Who ISN'T The Course Suitable For?
The class isn't suitable for you if you're totally happy with your current work and don't think it can be improved in any way.
It's not designed for you if you:
can't yet cut glass accurately to a pattern
are not quite confident with the basics
only like learning from an in-person class. The class is all online
lack a bit of motivation. The class is self-study so you need to check-in and follow along with the video and training material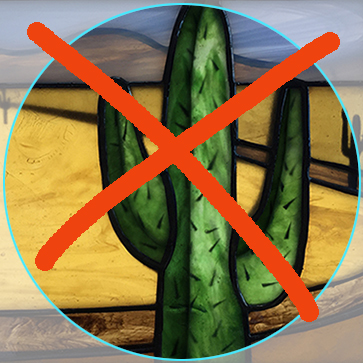 QUESTION: "How do I know Plating will make a difference to my work and make it stand out as completely unique?"  


On the few occasions I've seen plated stained glass posted on social media the 'Likes' go through the roof. Precisely because it stands out, because it's completely unique.
The interest is staggering. It's a technique that's new to most everyone and hardly anyone is creating work this different.
Please don't get me wrong here; I'm not suggesting you live your life pandering to social media likes - no!
What I'm trying to show is the astonishing impact of plating. It will make a huge difference to your work. 


QUESTION: "I've seen Tiffany's plated glass. I'm not an artist and that's surely too hard for me?"
I've deliberately kept this first plating project as simple as possible. The class project is just 2 layers to get you started on your exciting journey.
I take you through each plating process in my usual detail, showing you exactly how to progress successfully through each stage.
If you've already made a few copper foiled panels from start to finish and have the basics safely tucked away then this class is suitable for you.
Once your confidence grows you'll be able to make more complex work until you're ready to tackle a Tiffany!
Plating Magic isn't suitable if you can't yet cut and solder to a pattern accurately. 


QUESTION: "I don't have a lot of time. How long will it take me to learn this and will I spend ages struggling over it?"


I've specifically designed this course with busy people in mind. I've structured the course with an option of 2 tracks to choose from: a 'Busy Person' FAST Track and a 'Not-So Busy Person' FULL Track.
Both the FAST and FULL Tracks will teach you how to make a lovely plated glass panel from start to finish.
And don't forget, Plating Magic is an online class with Lifetime Access. If you find yourself with more time in the future you can come back to it then.


QUESTION: "Plated glass is too heavy to hang, impossible to clean AND uses lots of expensive glass."


Answer: No, No and definitely NO :-)
You can create all the magical effects - the illusion of distance, movement and real dimension - with just 2 plated layers. And I prove it in this Plating Magic class.
The project panel you'll create in the course is made up of a sandwich of glass that is totally sealed together. No gaps for dirt, no moisture for mould.
It's easy to keep clean and is light enough to hang.
And as for expensive glass… the amazing thing about plating is that because you're stacking the glass up, you can use the most ordinary glass you have in each layer and WOW! put them together and they come alive to stunning effect. 
That's the real magic of Plating.


QUESTION: "I've seen this done in my Facebook Group - why do I need this class to teach me the technique?"


I started my journey to learn Plating skills in the same places as you. I searched YouTube and the Internet and found very little structured information.
If you like to know you're not missing any vital information this class is the best option for you. You'll sidestep common errors and mistakes and learn how to tackle a plating project systematically. 
The course is taught by me, Milly (hello!) I'm a qualified teacher and I've used my teaching skills to structure the class carefully to guide you to a successful result.
If you prefer a more 'try-it-and-see', hit and miss approach it's absolutely fine to start sleuthing yourself!


QUESTION: "I'm confused - are there different types of plating?"


Yes. I call the different types 'sealed' and 'not sealed'. Within that there is Spot Plating (layering one small area) and what I call Sandwich Plating (layering the whole panel as one).
The main technique covered in the course is sealed Sandwich Plating. You'll learn to put together 2 layers permanently and securely together to create a unified combination of the effects you're seeking.​​​​​​​​​​​​​​ 
Sealed Spot Plating is also included in the Plating Magic class as an exciting additional option.
Both techniques are structurally strong and no grime can get inside.


QUESTION: "Can you remind me what I'm getting if I enrol today?"


You'll get instant access to the Stained Glass Plating Magic class at a Special Introductory Discount Price. This ends midnight Sunday 22 February (Pacific).
All the lessons are online in the Everything Stained Glass School and all are available immediately.
Plating Magic consists of 6 Modules that use video lessons, workbooks, crib sheets, checklists and prompts to teach you systematically how to make great glass choices and how to make a 2 layer sealed panel. 
There's also an additional video tutorial showing how to do the sealed Spot Plating technique.
You'll get a bonus video tutorial called 'No Kit' Sandblasting. This teaches you how you can save money by transforming the glass you already have into glass suitable for Plating. 
As with all my classes, I'm proud to offer Lifetime Access. I want you to be able to take your time with this, coming back whenever you need to have another look or learning another trick.


QUESTION: "Is it really risk free?"


Absolutely it is. I'm so confident Plating Magic will help you create a totally different kind of stained glass that I've included a 30-day Personal Promise Guarantee. 
No questions asked, no fuss and certainly no hard feelings.


QUESTION: "How does this class work?"


Good question! Here's a run down of what to expect:
As soon as you purchase the course you will receive a welcome email with your login details and a link to the course.
You can do the course in any order, at any time and at your own speed. You can watch and re-watch it to your hearts' content.
There is a Facebook Group exclusively for students of my courses where you can ask questions and share what you're up to with others.​​​​​​​ 
So, to answer the question...


"What's the biggest difference between a stained glass panel that takes your breath away and one that merges with the crowd?"


Plating, Plating, Plating!
Every time. Plating will fling open doors to:


-- popping any element in your panel into focus - loud and clear!
-- creating dimensional landscapes with detailed flowers in front and misty mountain foothills behind
-- making rivers sparkle in the sunlight as they flow calmly by
-- producing glorious multi-coloured skies as the sun sets low
-- making your dog's ruffled fur real enough to stroke


I could continue!


All of these effects are nigh on impossible to achieve with just a single layer of glass, no matter what kind of glass you use.


That's why I'm able to say - with 120% confidence - that it's not your fault if you haven't yet managed to find that final magic ingredient. Learning plating will change that.


It will take your breath away.
Secure Payment - Paypal or Credit Card - and 100% Money Back Guarantee